Infrastructure Facility Management
We maintain values
Through our infrastructural Facility Management the maintenance of the property's value is our uppermost concern. This requires conceptual and cost-sensitive service planning, as well as detailed quality controlling during the whole lifespan.
We produce for our Clients a tailor-measured package of services which matches exactly the infrastructure of the property. The level of service is fully analysed beforehand with a very detailed look at cost-saving synergies between the different services. By this method we guarantee to our Clients a prolonged high-quality efficiency during the lifespan.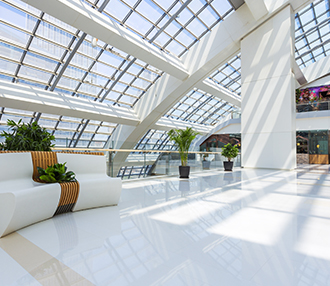 Our Service Creed:
By using operating plans which adjust the level of service according to the property's needs, we increase the prolonged value of the property.
Our Service Packages:
Maintenance cleaning
Daily cleaning
Landscape care & maintenance
Car park operation
Winter services
Security concepts/security services/property security
Front-of-house services
Lock & key administration
Removal management